Product Description
HEPA Filter Housmile Anti-Dust Mites UV Vacuum Cleaner For Bed Bugs , Mattress Vacuum Cleaner With UV Light
01Outstanding Features:
6000 cycle/min rotating speed, powerful suction 10.5KPa, 253.7nm UV Tube sterilization and 65℃ high temperature hot air ensure high efficiency of killing mites: the rate of killing bed bugs, mites, microorganisms and bacteria is almost up to 99.7%.
HEPA Filtration: It captures 99.97% of particles as small as 0.3 microns and releases fresh air.
This UV vacuum clearner works brilliantly to eliminate dust mites: beats out dust mites from deep of bed sheet, and mattress, and thoroughly sucks them away.
200ML Capacity Dust Box: This UV vacuum cleaner has a compact and lightweight design, only 4.5 lbs. It has a 200ml built-in upgraded dust chamber capacity for better performance.
Exclusive activated carbon filtration: the air outlet on base employs the exclusive technology of double activated carbon filtration to clear pollution twice in a more effective way.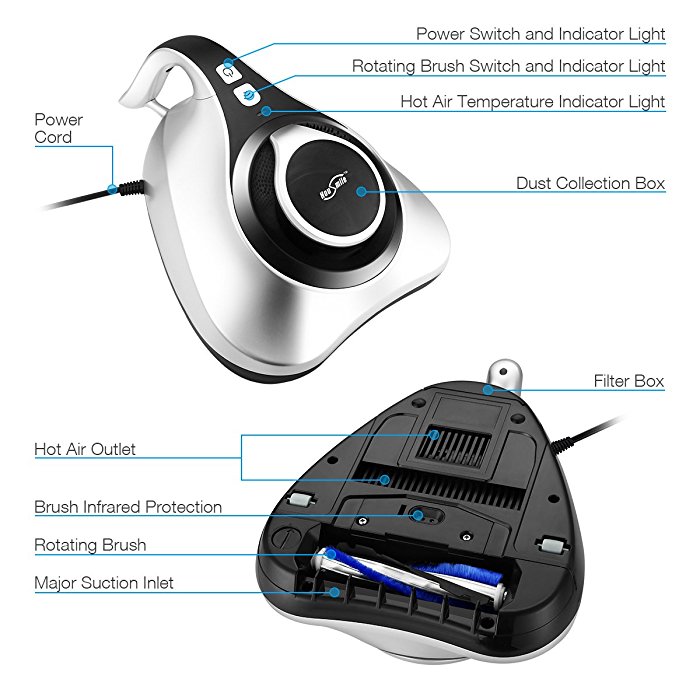 02Keep Dust Mites Away
Housmile UV Anti-Dust Mites Cleaner is designed to be extremely portable and user-friendly. It works wonderfully to keep dust mites, bed bugs and other bacteria away from your mattresses, pillows, clothes, sofas, curtains, carpets or anywhere dust mites and bugs could exist.
What are Dust Mites?
Dust mites, also called bed mites—are the most common cause of allergy from house dust. Dust mites live and multiply easily in warm, humid places. They prefer temperatures at or above 70 degrees Fahrenheit with humidity of 75 to 80 percent. They die when the humidity falls below 50 percent. They are not usually found in dry climates.
Housmile Anti-Dust Mites UV Vacuum Cleaner:
This Anti-Dust Mites UV Vacuum Cleaner design derives from one of the top E-commerce retailers, Housmile, who has been in the research and development of stylish and useful household items for over 2 decades. Housmile, as always, would like to share the inspiring ideas of health, safety & conveniences with customers. We deal in a wide range of household items that will bring you a convenient life style. This Housmile Anti-Dust Mites UV Vacuum Cleaner is one of the latest and most typical models of our Anti-Dust Mites UV Vacuum Cleaner series that will make your day effortless and productive.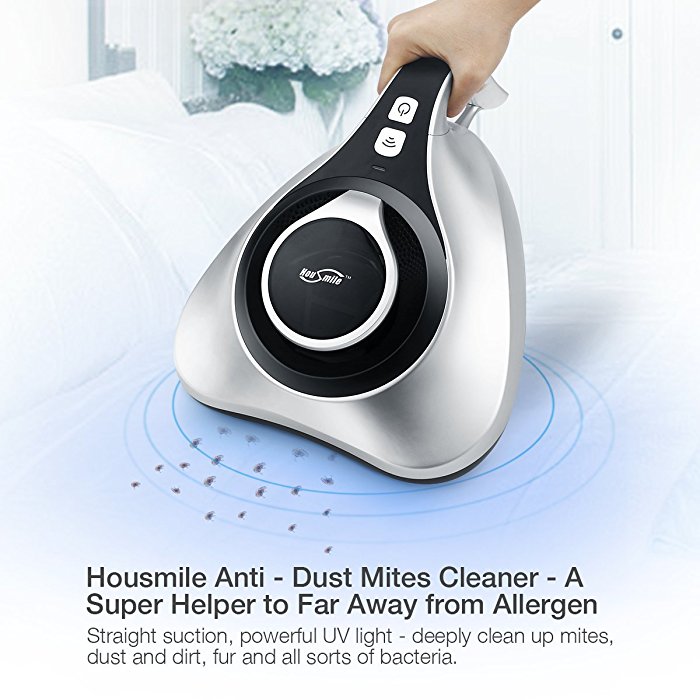 03Threats from Dust Mites:
100% of your beds are shared with dust mites; 1500,000 dust mites exit in your mattress;
97% grown-ups would have dust mites illness;
60% of allergens are caused by dust mites;
Numerous children got allergy rhinitis related to mites;
Breathing allergy is also caused by dust mites;
Besides, they can cause itching, and possibly asthma.
UV Vacuum Cleaner Performance
Researchers found that Mites' legs have hook shaped toes and furs, which are apt to attach themselves to the fiber structure of mattresses. Commonly seen mite removers fail to totally remove mites because of low frequency and narrow range using vibrating technology. Housmile roller brush will make a difference by giving the mattress deep beating 6000 times per minute, with its anti-allergic materials and highly efficient motor built in. It features 50% improvement compared with similar mite removers, in killing mites, with the help of 350W high-powered motor for strong absorption and the brush head with wider diameter.
Warranty Policy:
— Free Exchange against man-made damage from date of purchase & 30 days' refund unconditionally for every purchase from Housmile.
— Professional technical support, efficient and timely satisfactory customer service around the clock.