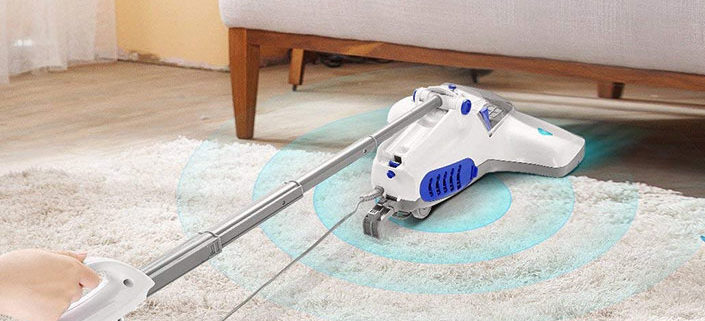 If you are eager to live in a highly hygienic, odorless, non-toxic and comfortable house with cozy furniture that requires less maintenance, then you should really get yourself a professional UV anti dust mite cleaner. Most UV anti dust mite cleaners on the market are designed to be greatly indoor-friendly, extremely user-friendly and as portable as they can be. They are usually made of first-rate materials with great durability. New designs with easy usage are more obviously quite popular for housewives, housekeepers, or even the laziest man on this planet.
People might wonder how this new type of UV anti dust mite cleaners work to eliminate dust mites. For starters, let's get a rough understanding of a little fascinating scientific fact about dust mites. Dust mites, also called bed mites, are the most common cause of allergy from house dust. Dust mites live and multiply easily in warm, humid places. They prefer temperatures at or above 70 degrees Fahrenheit with humidity of 75 to 80 percent. They die when the humidity falls below 50 percent. They are not usually found in dry climates.
Researchers found that mites' legs have hook shaped toes and furs, which are apt to attach themselves to the fiber structure of mattresses. Commonly seen mite removers fail to totally remove mites because of low frequency and narrow range using vibrating technology. There are some new inventions on the horizon, which use unique roller brushes. They are belived to make a difference by giving the mattress deep beating up to thousands of times per minute, with its anti-allergic materials and highly efficient motor built in. It features approximately 50% improvement compared with similar mite removers, in killing mites, with the help of high-powered motor for stronger absorption and the brush head with wider diameter.
We round up top 4 best UV anti dust mite cleaner options available on the market today. These best lightweight UV anti dust mite cleaners highlight great benefits for conveniences indoors. Let's take a closer look in the following.
#1, Housmile Anti-Bacterial UV Vacuum Cleaner with Powerful Suctions with 10.5KPa, Advanced HEPA Filtration and Double Powerful Brushes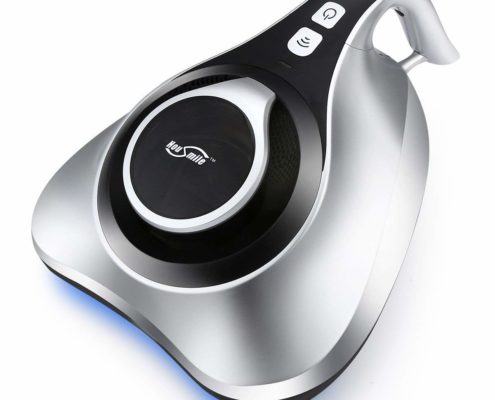 Housmile UV Anti-Dust Mites Cleaner acts as a helpful dust mite remover owing to its outstanding performance in keeping mites away. It is designed to be extremely portable and user-friendly. It works wonderfully to keep dust mites, bed bugs and other bacteria away from your mattresses, pillows, clothes, sofas, curtains, carpets or anywhere dust mites and bugs could exist. The portable UV vacuum cleaner features 6000 cycle/min rotating speed, powerful suction 10.5KPa, 253.7nm UV Tube sterilization and 65℃ high temperature hot air that will bring the nest of mites down thoroughly. The HEPA filtration is able to capture 99.97% of particles as small as 0.3 microns and releases fresh air. The air outlet on base uses the exclusive technology of double activated carbon filtration to clear pollution twice in a more effective way.
#2, Raycop RS2 UV Sanitizing HEPA Allergen Vacuum Effectively Removes Dust Mite Matters, Bacteria, Viruses and Pollen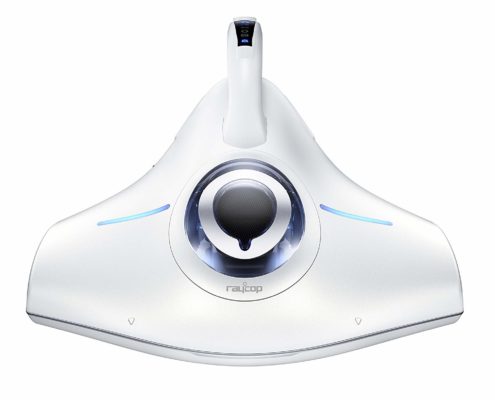 This UV dust mite cleaner uses RAYCOP's unique patented RayClean Technology to remove bacteria, vriuses and dust mite matters, up to 99.9% high killing rate. And based on this leading technology, the UV dust mite remover just takes seconds to fulfill cleaning. The cleaner has dual filtration system that works with an included HEPA filter to effectively trap tiny debris and micro organisms on fabric surfaces, making your furniture totally allergen free. This efficient dust mite cleaner will protect your family from the suffering of allergy problems caused by dust mites.
#3. EULEVEN Hot Wind Anti-Dust Mites UV Handle Vacuum Cleaner with HEPA Filtration and Double Powerful Suctions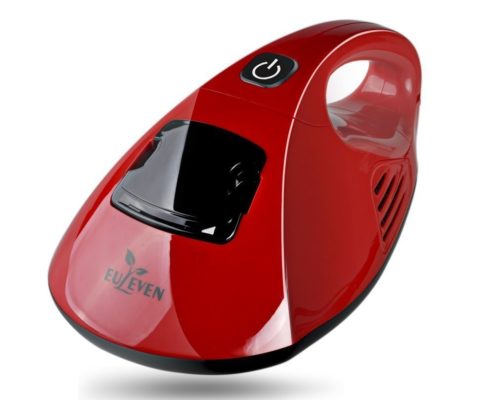 This anti dust mites UV vacuum cleaner would probably meet all your expectations for a best dust mite killer. It gives you ultra high speed for beating dust mites. The 3800 cycles per minute high-frequency vibration and double powerful sunction with 8.5KP are capable of knocking dust mites out from bed sheet, mattresses, sofas, clothes and other furniture. Aside from the 253.7nm UV tube sterilization,the UV cleaner uses 55℃ high temperature hot air to eliminate mites, with up to 99.7% killing rate. For super small particles, as small as 0.3 microns, the cleaner uses HEPA filtration to capture them and refresh the air for your cozy house.
#4. Gemtune Anti-Bacterial UV Vacuum Cleaner, 12Kpa Powerful Suctions, Advanced HEPA Filtration & Double Powerful Brushes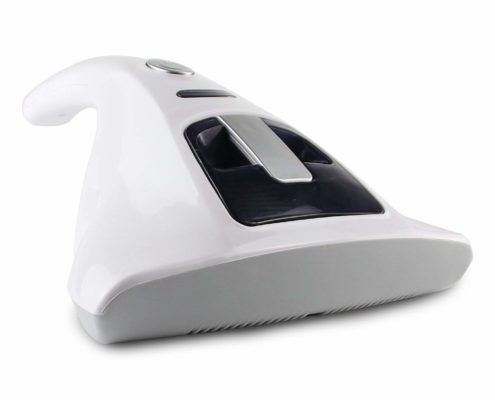 This UV vacuum cleaner features a remarkably ergonomic design. This handheld style portable UV cleaner fits in your hand comfortably. Much thought has been put into this design. It uses intelligent electronic sensing control. The distance between the bottom of the machine and the cleaning surface is well controlled so as to prevent harmful exposed ultraviolet light to human eyes. Likewise, this UV cleaner uses HEPA filter to eliminate dust mites with over 99% killing rate.
http://www.ihousmile.com/wp-content/uploads/2018/07/uvo-1.jpg
470
705
MiCRicky
http://www.ihousmile.com/wp-content/uploads/2017/07/logo1-300x138.png
MiCRicky
2018-07-02 15:33:50
2018-07-02 15:33:50
The Best UV Anti Dust Mite Cleaners on Amazon