Product Description
01Intelligent Solar Powered LED Security Motion Detector Outdoor Light:
Housmile solar panel motion sensor light is made up of 16 small LED bulbs for great brightness.
It effectively absorbs sun rays and converts into electric power for lighting.
This dusk to dawn light can automatically turn on and off when it senses the change of environment.
When the light senses motion within 10 to 16 feet, it will be on automatically.
The LED light has a high capacity 850mAh battery built in for long lasting power.
It's easy to mount this motion sensor light on walls with the includes screws.
Package:
1 x Solar Powered LED Security Motion Detector Outdoor Light;
1 x User Manual;
1 x Installing Screws;
1 x Built-in die thimble;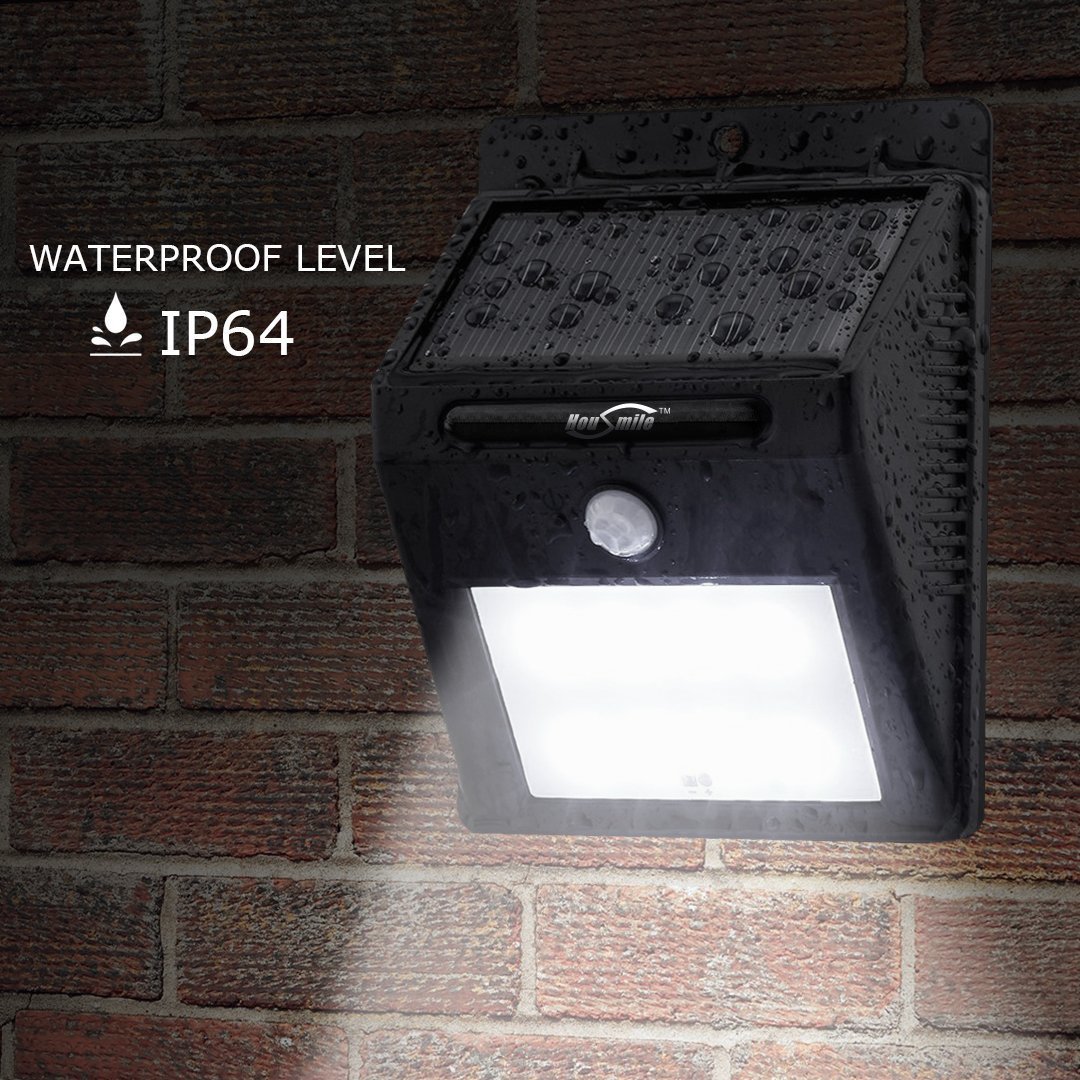 0216 LED Motion Sensor Outdoor Lights
This solar powered motion sensor outdoor light is obviously much brighter compared to commonly-seen solar lights. It's equipped with 16 small LED bulbs, up to 50 lumens illumination. It's an ideal security light for your home, warehouse, barn, workshop, office, etc.
The LED light can be adjusted for 110 degrees direction. Mounting it in spots with direct sunshine is strongly recommended.
Size: 4.8*3.8*1.9 inches
Weight: 0.28lb
Battery Capacity: 850 mAh
Sensor lighting time:11 seconds
Solar Panel Power: 0.3W
Tips:
1. In winter, the solar light is not able to be fully charged for the lack of light. So it's normal if the solar light is not bright enough and illumination time is short.
2. Special Note: Please fully charge the device for 2 or 3 sunny days before first use.
03Advanced Automatic Sensor
This intelligent LED sensor light features an intelligent strong motion sensor. When it detects motion, it will be on automatically, when motion is gone, it will be off right away.
Energy-Saving LED Light:
This outdoor motion sensing solar powered security light can continuously work for 8 to 9 hours based on a full battery. You can use the bright LED light for your backyard, balcony, barn, warehouse, storage room, driveway, corridor, garden etc.
IP64 Waterproof LED Light:
The solar powered LED security motion detector outdoor light is made of durable ABS material. It's rated at IP64 waterproof. You can use this LED light in rainy weather condition.