Product Description
Denture Cleaner with Digital Timer and Degas Anti-Oxidation Function, FCC Approved Jewelry Cleaner for Watch, Glasses
01Ultrasonic Cleaning Machine:
This ultrasonic cleaner has powerful cleaning funciton using 40,000Hz ultrasonic sound waves to generate millions of bubbles to vibrate and remove dust and dirt on solid surfaces thoroughly.
This cleaning machine lets you enjoy user-friendly timer modes. You can operate 5 pre-set cleaning cycles (90, 180, 280, 380 & 480 seconds) based on your need.
The advanced degas mode will effectively prevent your items from oxidization. The ultrasonic cleaning machine produces ultrasonic pulses to degas.
The ultrasonic cleaner is solidly built by imported ABS environmentally friendly plastic which has great insulation. It has a large capacity 20 ounces design made of high quality stainless steel.
The advanced ultrasonic cleaner comes with a cleaning basket, a watch stand, an instruction manual, together with 30 days money back policy and 12 months warranty.
02Application:
Jewelry: necklaces, rings, earrings, bracelets etc.
Wearing Items: glasses, sunglasses, brand watches etc.
Household Items: combs, razors, dentures, baby items etc.
Tableware: forks, knives, spoons, tea cups, scoops etc.
Metal Parts: coins, bearings, printer heads, injection cartridges, seals etc.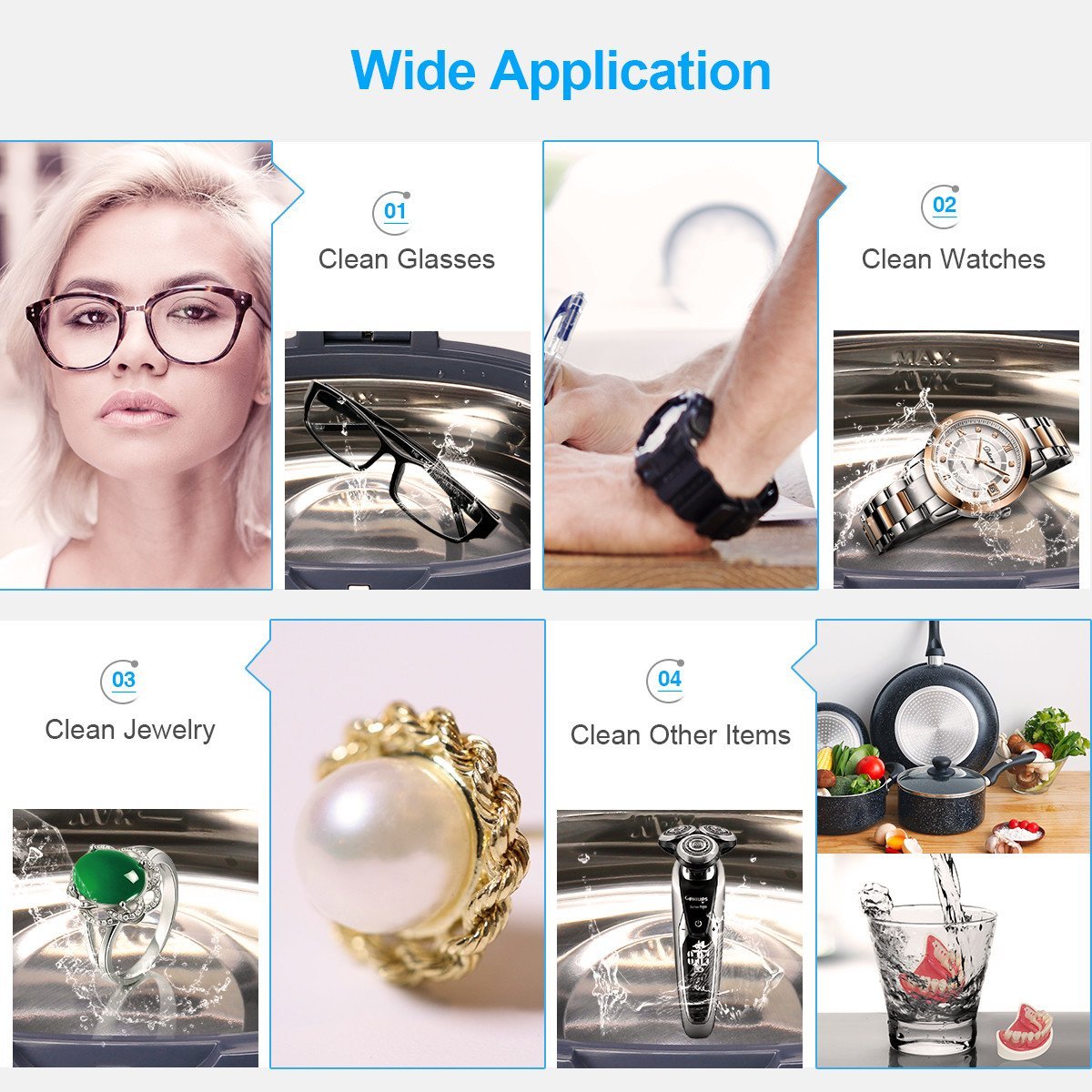 03Specification:
Capacity: 20 ounces
Shell Material: ABS
Liner Design: 304 stainless steel
Screen Design: LCD screen display
Voltage: 120 volts
Ultrasonic Frequency: 40,000 hz
Product Dimensions: 7.8 x 5.5 x 4.9 inches
Rubber Ring: Waterproof rubber ring
Noise Control: Noise Cancellation Design