Product Description
01Key Features:
Powerful mist and Wider coverage: the cool mist humidifier designed with a powerful mist release device, the mist can reach up to 1m and cover a wider space which reaches up to 300-600 sq, Refresh and moisturize the air that you breathe in within several minutes.
3.5L Large Capacity: Pure humidifier boasts a 3.5L interior which provides 10-hour continuous running with a single filling, designed with a transparent water tank make it easier to control the water level.
Soft Blue LED Night Light: the humidifier designed with blue LED night light, the soft lighting can be effective to relax your eyes and improve your sleep quality, enjoy your time in a dark and dim environment.
Customize Moisture Output Via Knob Rotation: A customizable humidifying operation is offered with a user-friendly knob. This unit gives off moisture up to 300ml/h in maximum, keep your skin from drying and your nose from blocking.
What you get and Housmile safety assurance: Humidifier, user manual. When you get one of HOUSMILE product, you can enjoy 30 days money back and 12-month worry-free guarantee! by the way, add oil inside is not advised for it is a pure humidifier.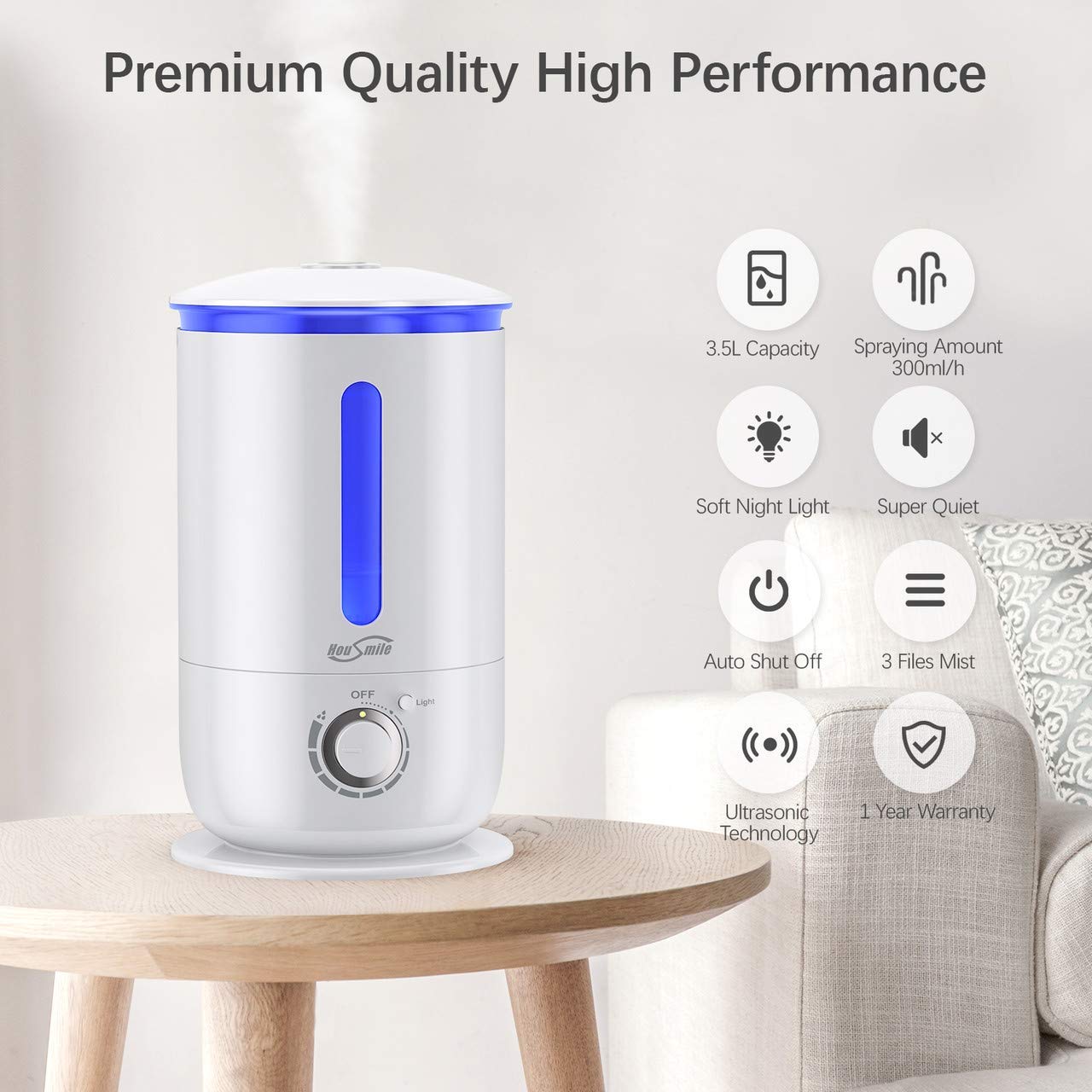 02Importance of Humidifier
The most suitable humidity for human ranges from 40% to 70%, a humidifier is a must-have item if humidity in the air is lower than 30%, babies who lives in the low-humidity environment in the long time will have more chance to suffer from respiratory problems, dryness also accelerates aging because of excessive loss of water stored in the skin, which is the last thing that woman want to experience. A good household humidifier will help you to breath easily and better in dry environment free from sore eyes, dry throat,blocked nose and other respiratory and skin problems.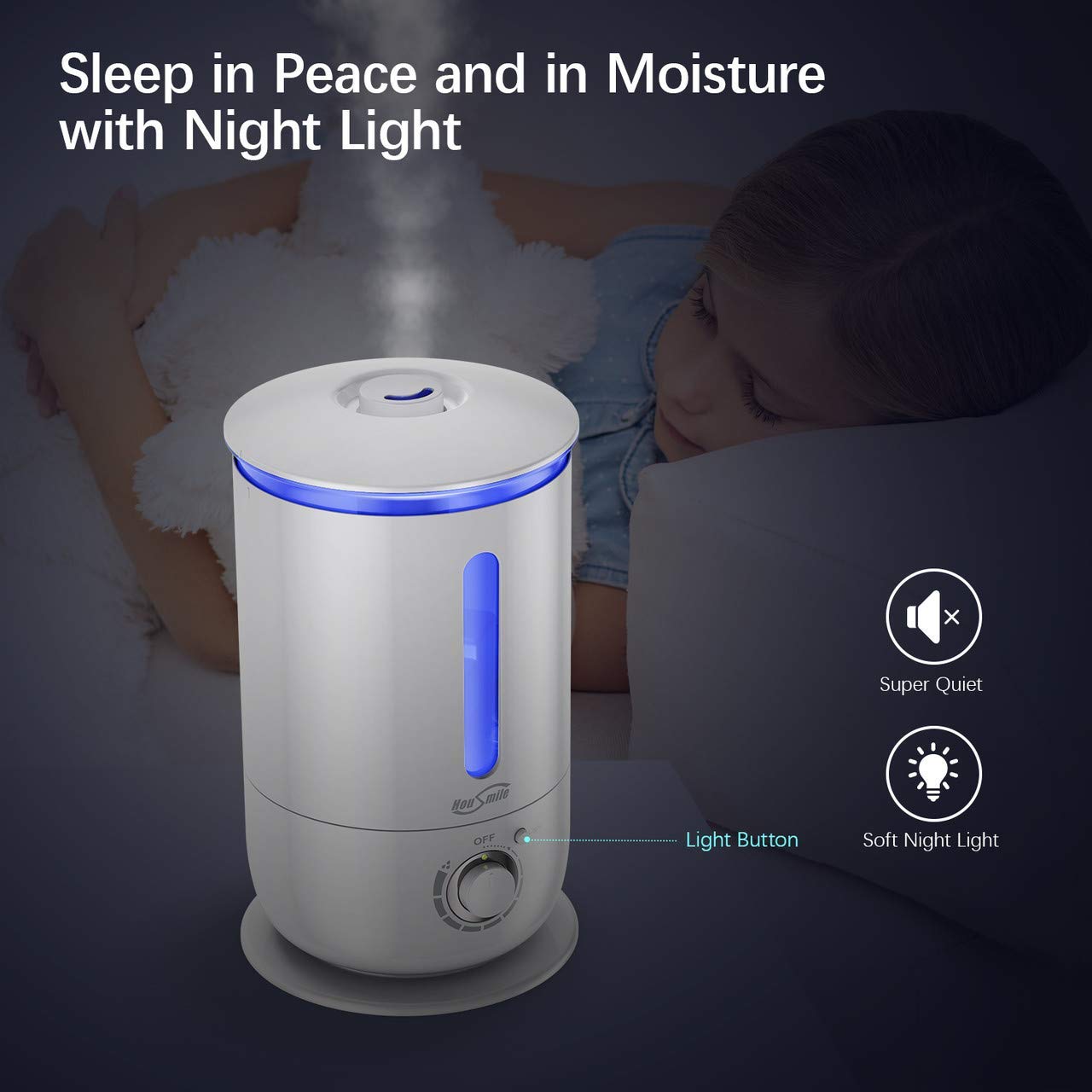 03

Product Specification

Tank Capacity: 3.5L
Power Input/Output:100-240V, 50-60Hz
Working Time: 10 Hours
Mist Output: 300ml/h
Noise: ≤50dB
Product Size: 7.75×7.75×12.83 inches
Net Weight: 3.3lb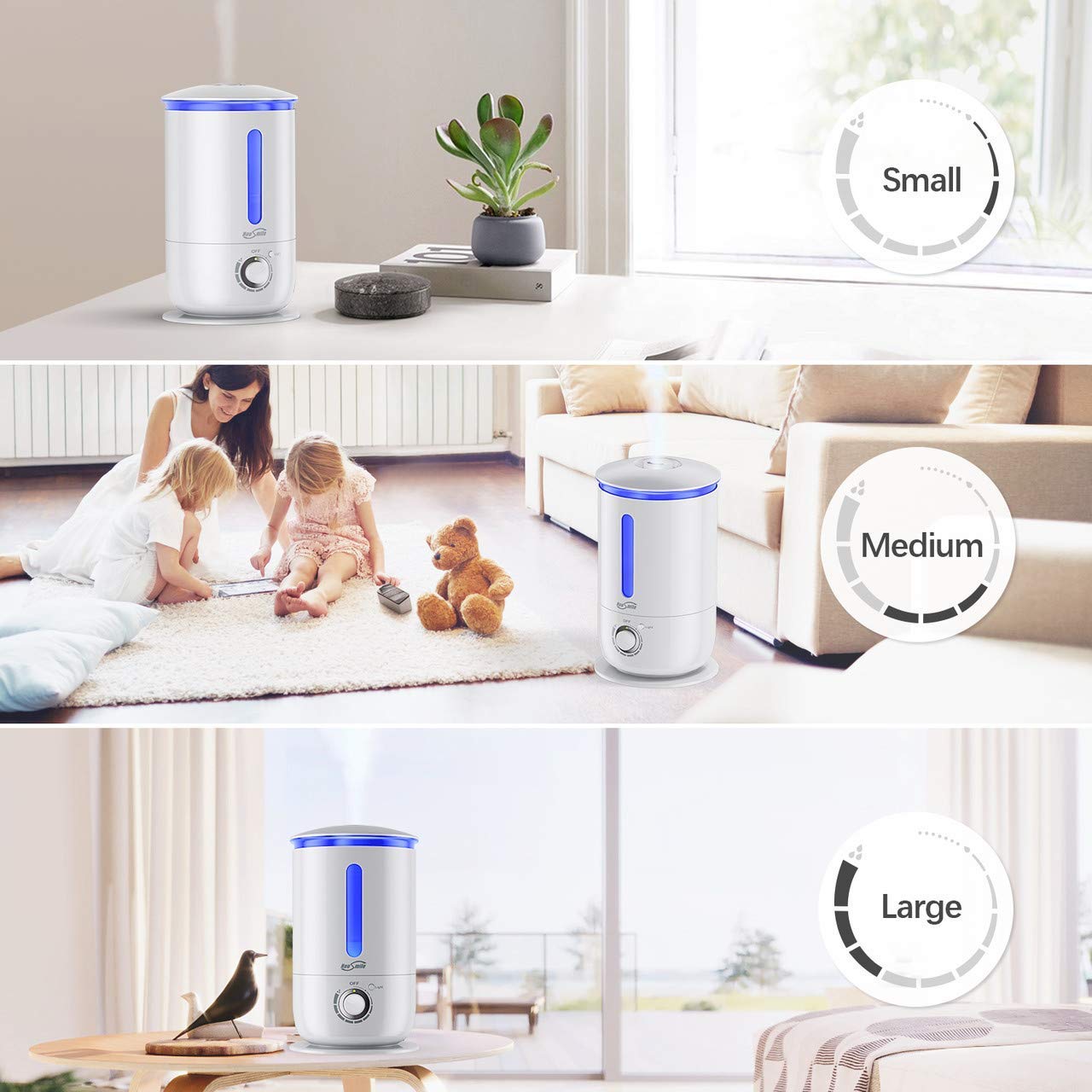 04

What's in the box
1x iHousmile Humidifier
1x User Manual
1x Feedback Card
 Warranty Policy:
Free Exchange against man-made damage from date of purchase & 30 days' refund unconditionally for every purchase from Housmile;Professional technical support, efficient and timely satisfactory customer service around the clock.