Product Description
01Outstanding Features:
This amplified digital outdoor HDTV antenna can receive VHF/UHF/FM signals within a wide range of 150 miles.
It has a wireless remote control to easily adjust antenna for best signal reception.
This antenna is able to connect 2 TV sets with a signal amplifier built in.
It fully supports HD TV images: 720p, 1080i, 1080p, 4K.
The outside digital TV antenna is made of highly durable material so that it can withstand various weather conditions.
It can be easily installed on the roof to receive free digital broadcast HDTV signals.
Package:
The package includes a wireless remote control, an antenna mast, a 32 feet coaxial cable, a built-in rotor and an amplifier.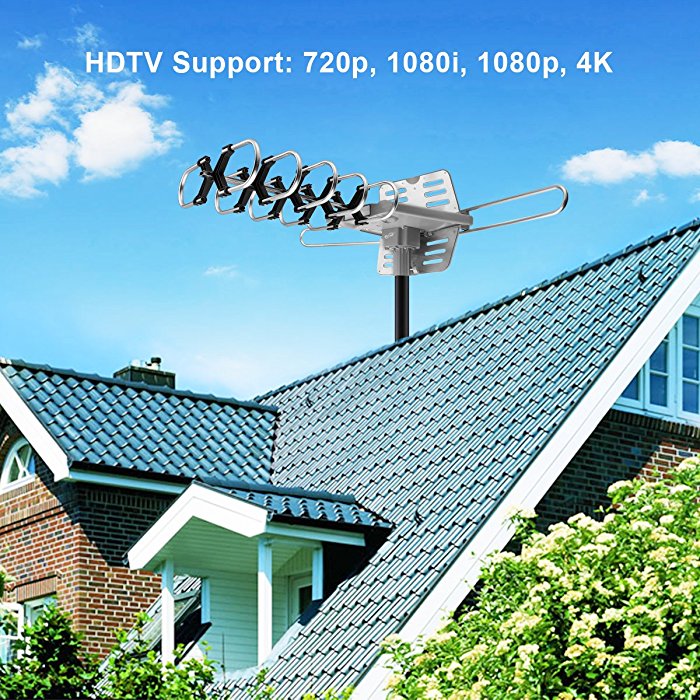 02150 Miles Digital Amplified TV Antennas
Housmile outdoor VHF UHF HDTV antenna has super strong reception for TV signals within a wide range of 150 miles. Thanks to the advanced military antenna technology, it can receive digital TV FM/UHF/VHF signals. The antenna works greatly in suburban areas.
Specification:
Working Frequency: VHF 40~300MHz | UHF 470~890MHz
Typical Antenna Gain: 25-30dB
Reception Range: 100-150 Miles
Main Voltage: AC-110V/60Hz
Warranty Policy: Free Exchange against man-made damage from date of purchase & 30 days' refund unconditionally for every purchase from Housmile;Professional technical support, efficient and timely satisfactory customer service around the clock.