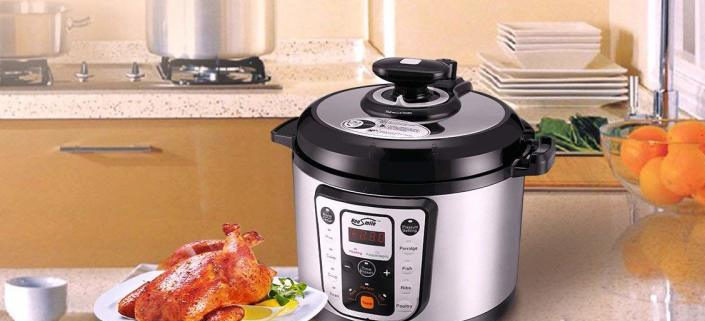 People love to have an electric pressure cooker, especially housewives. An electric pressure cooker is considered to be one of the greatest inventions for the kitchen. It can largely save your time in the kitchen and help you get meals on the table without the effort.
Most typical electric pressure cookers on the market include an electric heat source that is automatically regulated to maintain the operating pressure. They also include a spring-loaded valve. This type of pressure cooker cannot be opened with a cold water quick-release method and should be operated with caution when releasing vapour through the valve, especially while cooking foamy foods and liquids, such as lentils, beans, grains, milk, gravy, etc.
Nowadays, other than the earlier generation of electric pressure cookers, the most up-to-date pressure cookers are designed with advanced programs for different kinds of food. And the induction heating system is a must-have technology for making food fully cooked with better efficiency. These new-developed programmable pressure cookers are designed with more user-friendly functionality and designers will focus on more details to maintain the health of food and ensure the best cooking effects.
Here's a widely approved list for best advanced programmable pressure cookers in 2018, which has been highly recommended for the great heating technology and user-friendly touch screen design.
1. Housmile Pressure Cooker, Induction Heating System, IH Electric Rice Cooker Multi-Use Programmable Pressure Cooker, 5 Quart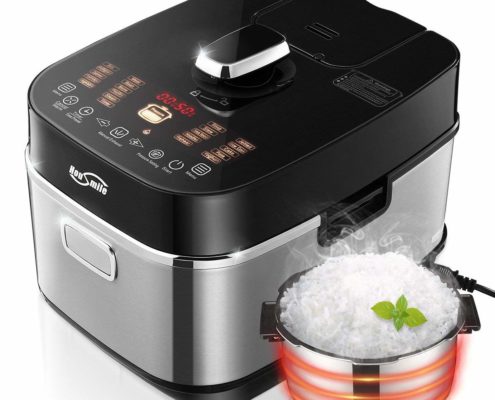 This Housmile IH(induction heating) pressure cooker uses the most advanced technologies IH(Induction Heating) and Microprocessor to manage cooking for best results. This pressure cooker allows you to enjoy cooking a great variety of food with specific programs, up to 19 smart programs available. You can enjoy more conveniences with this pressure cooker thanks to the highly sensitive touch screen design. You can set your cooking modes and control more details for the best meals. The cooker features a 3-dimensional heating effect, that is, the rice cooker cooks your food with heating from bottom, side and lid, which allows you to enjoy healthy cooking options for germinated brown rice, GABA brown rice etc. Besides, this cooker has a solid build, it has a stainless steel inner lid. The 5-quart capacity cooker is easily detachable and easy to clean.
2. Instant Pot DUO60 6 Qt 7-in-1 Multi-Use Programmable Pressure Cooker, Slow Cooker, Rice Cooker, Steamer, Sauté, Yogurt Maker and Warmer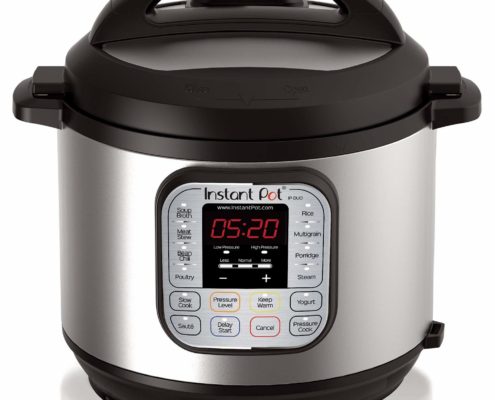 This Instant Pot pressure cooker allows you to cook your food with high pressure that saves your cooking time. The high pressure makes heating more productive. And it also features a low pressure mode which is able to avoid overcooking for some delicate food. This pressure cooker is designed to cook meals for up to 6 people, due to the 6 quarts capacity. The control panel offers up to 14 smart programs for different need based on a great variety of food you might want to cook. It does serve a lot of purposes for you, such as pressure cooking, slow cooking, rice cooking, and can work as a yogurt maker, a steamer and warmer. Owing to UL and ULC certification, this pressure cooker enjoys proven safety mechanism for high efficiency.
3. COSORI 8 Quart 8-in-1 Multi-Functional Programmable Pressure Cooker, Slow Cooker, Rice Cooker, Steamer, Sauté, Yogurt Maker, Hot Pot and Warmer, Full Accessories Included, Stainless Steel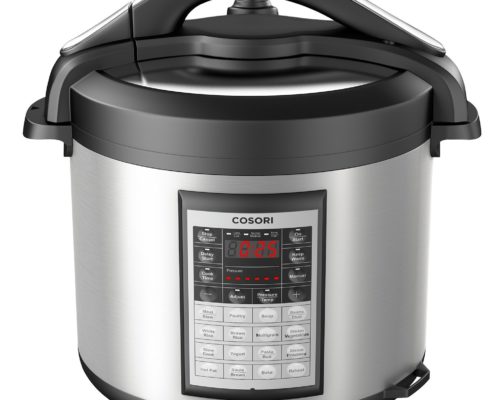 This multi functional programmable pressure cooker has up to 17 smart cooking programs which are ideal for Meat, Stew, Poultry, Soup, Beans, Chilli, White Rice, Brown Rice, Multigrain, Steam Vegetables, Slow Cook, Yogurt, Pasta/Boil, Steam Potatoes, Hot Pot, Sauté, Brown, Baking, Reheating and Food Warming. You are able to create all that wonderful food you like with these specific programs. Despite a decent size, its capacity is 8 quarters. This user-friendly cooker has stainless steel made inner pot, lid and steam rack. It emits no steam when cooking, helping you keep all the nutrients and vitamins within your food. You can enjoy safety and hygiene with this cooker because of ETL, FCC & FDA certified standards.
4. Mueller 10-in-1 Pro Series 19 Program 6Q Pressure Cooker with German ThermaV Tech, Cook 2 Dishes at Once, BONUS TEMPERED GLASS LID INCLUDED, Saute, Steamer, Slow, Rice, Yogurt, Cake, Maker, Sterilizer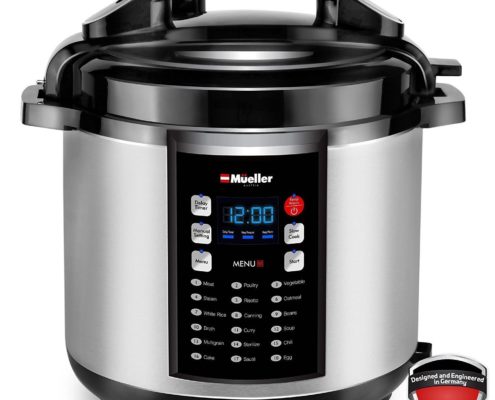 The 19 cooking programs make this pressure cooker a typical programmable functional cooker. The multi-purpose pressure cooker is well made with reliable heat resistant handles and high-performance internal electronic components. The cooker comes with a stainless steel rack that enables you to cook 2 dishes simultaneously. As for the cooking pot, it's made of high-quality ceramic non-stick interior coating with plastic PTFE and PFOA free features for better heating distribution. This cooker gives you optimal cooking effects by the smart cooking programs and refined cooker quality with UL certified safety standards.
http://www.ihousmile.com/wp-content/uploads/2018/07/324523523523459152453.jpg
470
705
MiCRicky
http://www.ihousmile.com/wp-content/uploads/2017/07/logo1-300x138.png
MiCRicky
2018-07-09 17:01:02
2018-07-09 17:04:12
Advanced Programmable Pressure Cookers with Induction Heating System Available on Amazon